The Majestic Inn & Spa
Building History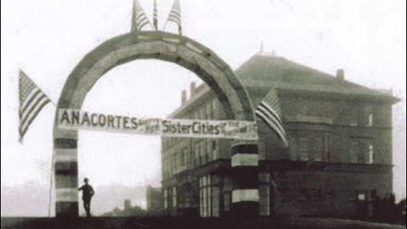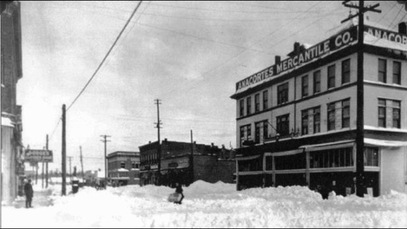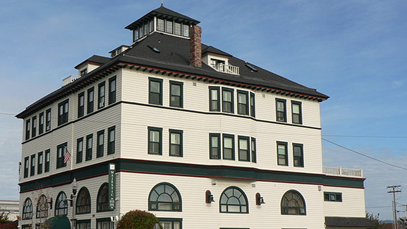 The McNaught Building, as it was known at the time, was built by the McNaught Land Co. in the late 1800s in anticipation of Anacortes becoming a booming railroad metropolis.
Unfortunately, the city of Anacortes lost out on its dream of becoming a major railroad terminus, and the business district shifted from the west end of the city to Commercial Avenue. Rather than rebuild or leave the McNaught Building unused, the owners decided to move the entire structure to the new business district. Therefore, the McNaught Building was dragged atop logs pulled by horses to its present location in 1904.
In its present location, the McNaught Building spent much of the next century as the Anacortes Mercantile Company, the largest retail store in Skagit County, before eventually falling into disrepair.
Condemned and slated to be torn down, the McNaught Building looked to be on its last legs when it was purchased and converted into a hotel in 1983.
Then, disaster struck in 2001. A cat knocked over a space heater in the third-floor library, causing a massive fire to break out and gut the building's interior. Fortunately, in 2003, local investors stepped in, purchased the building, and conducted massive repairs and renovations. They then sold the building to Regal Hospitality, who invested an an additional $4 million into restorations and improvements, and re-opened the hotel as the Majestic Inn and Spa.
Today, the hotel is owned and operated by VIP Hospitality Group, LLC., a hotel management and development company based in the Pacific Northwest. Under VIP Hospitality Group's management, the Majestic has experienced growth and success. In fact, due to an increase in demand, a new addition was added next door to the Majestic's historic building in 2013. The new addition more than doubled the number of rooms available in the hotel, allowed the Majestic to add even more luxurious touches to each room, and added a rooftop bar, fitness room, meeting room and a spacious ballroom to the Majestic's list of onsite amenities.