EXPLORE THE AREA:
The Majestic Inn and Spa is located on Fidalgo Island, in the heart of charming, downtown Anacortes. We are centrally located near the San Juans and five other day trips as well as numerous cultural, outdoor and historic attractions.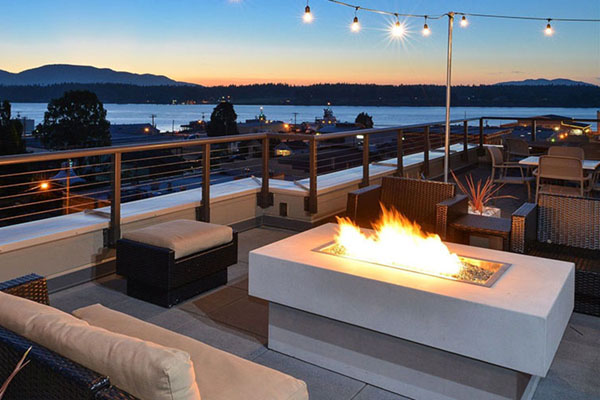 Rooftop Lounge
Enjoy spectacular views of the San Juan Islands, the water and downtown Anacortes from the second highest building in town. Open seasonally, our rooftop's cozy ambiance makes it a great spot to watch the sunset with an open fire pit, lounge seating and a full service bar and menu.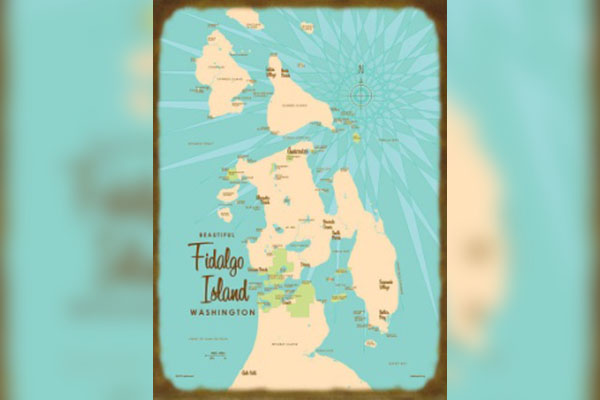 Fidalgo Island
Renowned for its beautiful outdoors and rich history, Fidalgo Island is just off the mainland, north of Widbey Island and Deception Pass. Since the earliest settlers came in the 1850s, the island has evolved from a ship harbor to a lumber and fishing headquarters. The most recent native peoples to build communities here are the Samish and the Swinomish; they now have a tribal community in Skagit Country.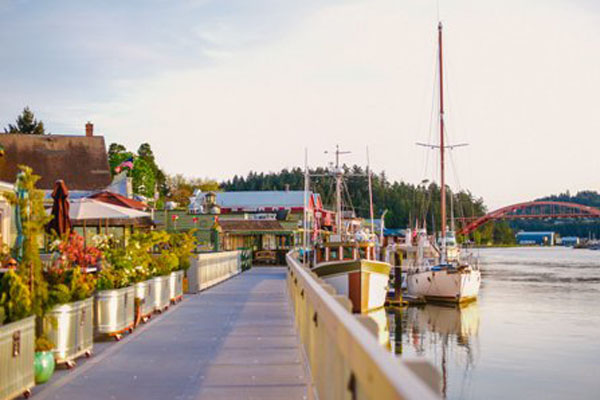 La Conner
Just a hop, skip and a jump away from Anacortes on the Swinomish Channel, the quaint town of La Conner is a great day trip. The Skagit Valley Tulip Festival is the highlight of April, and the boutiques and restaurants color the streets all year long. Discovered in 1867, La Connor was was the seat of Skagit County.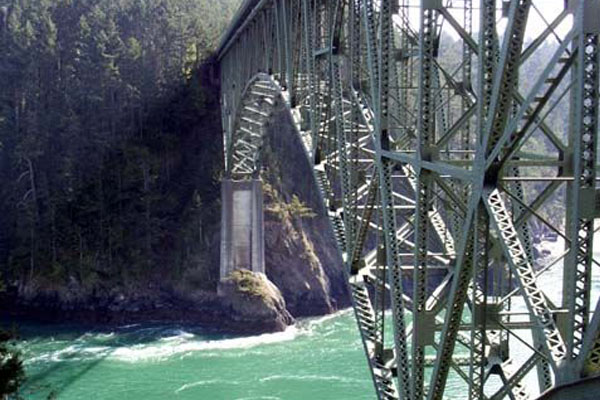 Deception Pass
Rugged cliffs, breathtaking coves and Northwest sunsets are what make Deception Pass a magnificent state park. Hike through the forested trails and swim in Cranberry Lake, just one of three in the area with beach access. Located in between Fidalgo and Whidbey Islands, this is a great location for bird, whale and seal watching.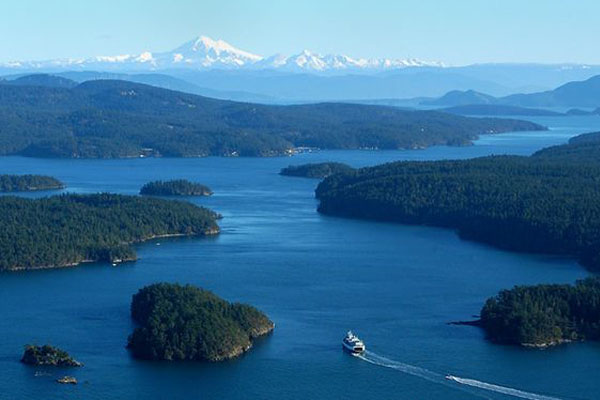 The San Juan Islands
Anacortes is a gateway for exploring Northwest Island life. Centrally located on Fidalgo Island, visitors can take the Washington State Ferry to roam to the San Juan Islands and enjoy Friday Harbor, Shaw, Orcas, or Lopez Islands — all just a day trip away from the hub of Anacortes.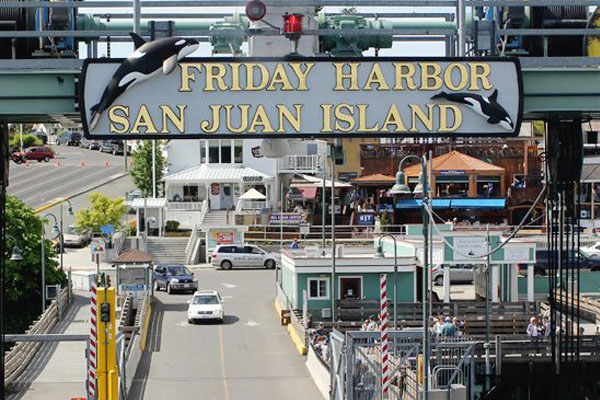 Friday Harbor
Friday Harbor is a vibrant town on San Juan Island offering lavender fields, parks, outdoor adventures, historic museums and more. You can try zip lining in the trees, horseback riding at Horshu Ranch, rowboating, canoeing or sailing in Roche Harbor. You can also stroll through a sculpture garden, the Whale Museum or a host of boutique shops before enjoying farm fresh dining.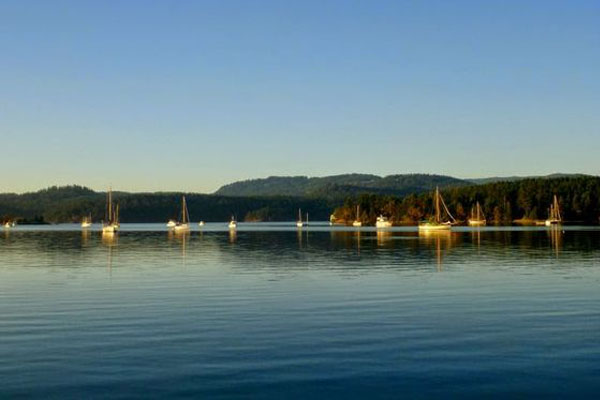 Shaw Island
Stargaze, camp overnight or explore Shaw Island on a bike or by foot as a day trip. Less than 10 miles, it's known as the quiet sister to the San Juan Islands and features an oasis of sandy beaches and a charming 1920s general store (open seasonally).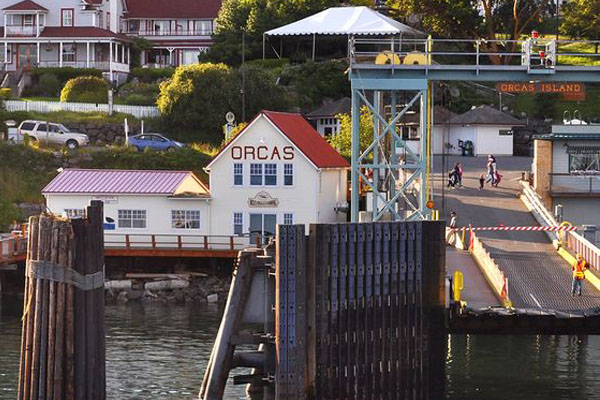 Orcas Island
Curving rural roads, stunning shoreline, local farmers and a handful of artisan shops are some of the picturesque features you'll find on Orcas Island. Visit the beautiful State Park, lakes and hiking trails, as well as Mt. Constitution, which marks the island's highest point and features views of Mt. Baker and the neighboring islands.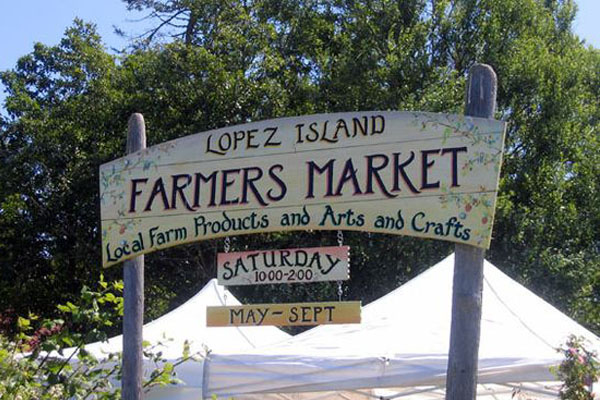 Lopez Island
Lopez Island is the first stop on the Washington State Ferry. This is predominantly a rural island which makes it a great retreat from the hustle and bustle from the mainland. As a bicyclist's paradise, this is a friendly destination with farm-to-table restaurants, performing arts and farmers markets.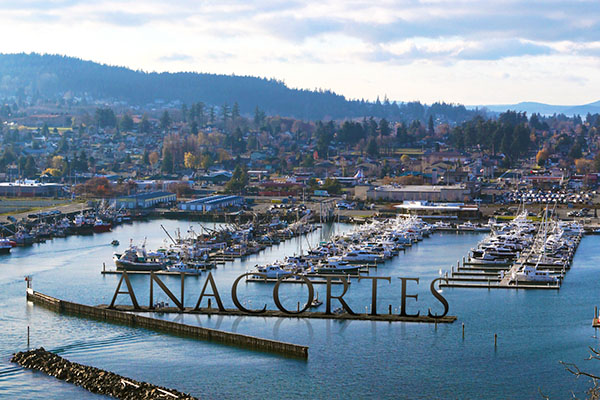 The Surrounding Outdoors
Anacortes is a retreat for the outdoor spirit with beaches to roam, lakes to see, and all-season hikes and trails to explore. Stunning marina vantage points offer sweeping views and the five lakes include Cranberry, Whistle, Heart, Erie and Campbell. Washington State Park, Volunteer Park and Deception Pass are all proximate with a great outdoor experience.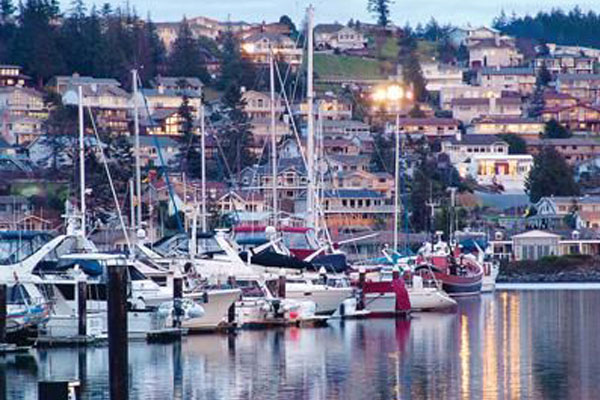 Boating, Sailing and Yachting
Named one of the 50 Best Yachting Towns by Yachting Magazine, Anacortes is the home-port for boating in the Salish Sea and a great place to start your water adventure. Cap Santa Marina provides the best-priced fuel in the San Juan Islands and is close to two grocery stores as well as all the downtown attractions.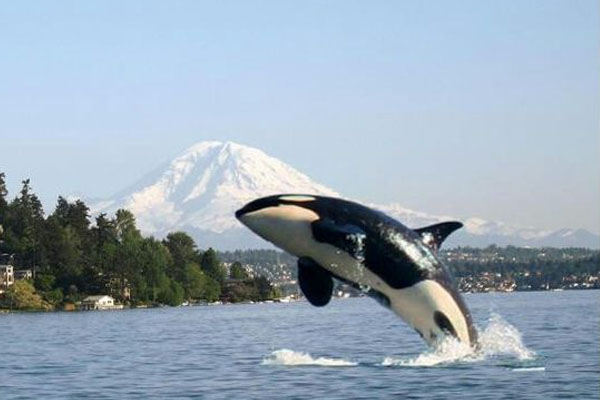 Whale Watching
From April through October, whale sightings and magnificent scenery are guaranteed with Island Adventures as you navigate through the San Juan Islands searching for Orca, Minke, Grey and/or Humpback whales. Porposes, seals and prolific birdlife are seen regularly as well.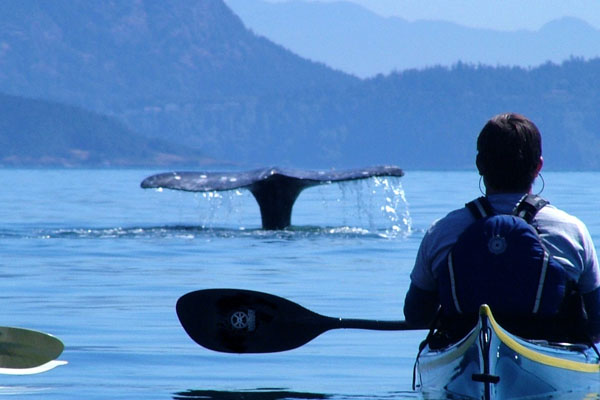 Kayaking
Anacortes Kayak Tours offers several choices of sea kayaking adventures from which to choose. For both families and seasoned travelers in mind, sea kayak tours will match your needs, budget and available time. This is a fun adventure for everyone!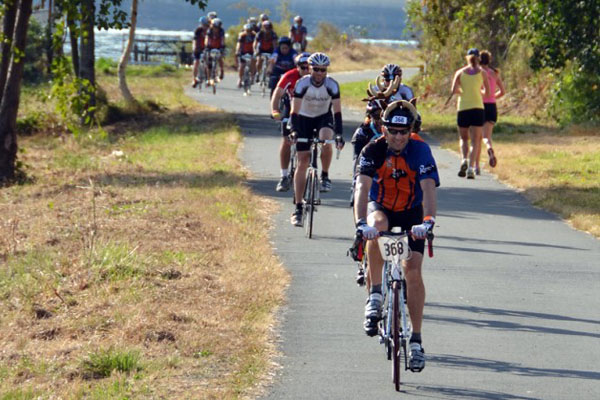 Biking
Take in the island views on two wheels from a day trip to one of the many parks and trails. Offering epic trails for the avid mountain biker as well as waterfront sidewalks for a simpler ride, the Bike Shop is a convenient downtown location and provides all the essentials, and Skagit Cycle Center is another great spot for rentals and pro tips.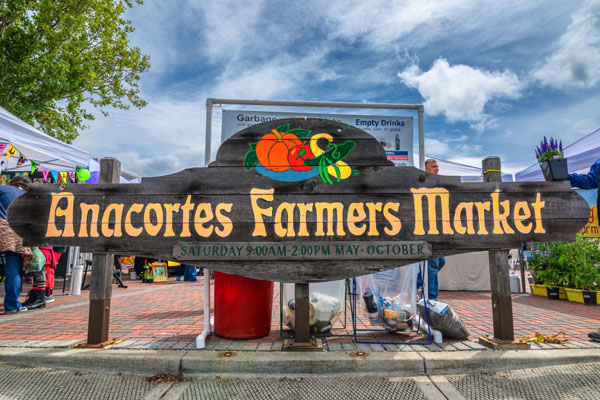 Festivals
Anacortes hosts exceptional art and a unique, year-round festival schedule. Check out the Anacortes Farmers Market, Arts Fest, Spring Wine Fest, The Skagit Valley Tulip Festival, Art in Bloom, Vintage Market, Waterfront Festival, Oyster Run, Annual Shipwreck Day and Bier on the Pier.
Family Friendly Activities
There are lots of fun options for the whole family to enjoy: sip coffee, taste chocolate and paint pottery at Johnny Picasso's or make an eco-friendly soy candle at Anacortes Candle Company. Peruse the charming Watermark Book Company and Pelican Bay Books on Commercial Avenue. 60 Different Ways to Experience Anacortes is a great resource to help you plan your visit.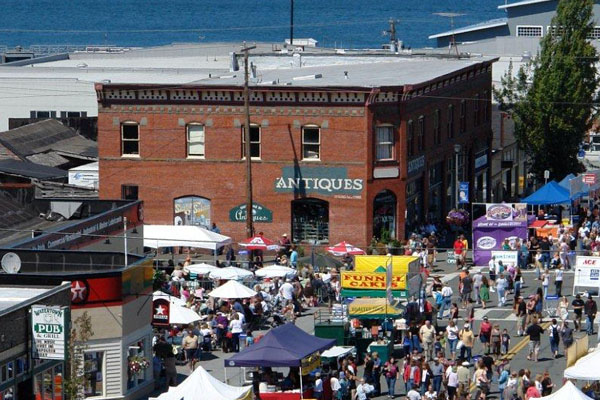 Boutiques and Vintage Shops
Some of the most established Skagit Valley Vintage Shops are located in Anacortes. You'll find artisan treasures such as jewelry, clothing, home décor, independent book stores, crafted oil & vinegar and fine wine shops.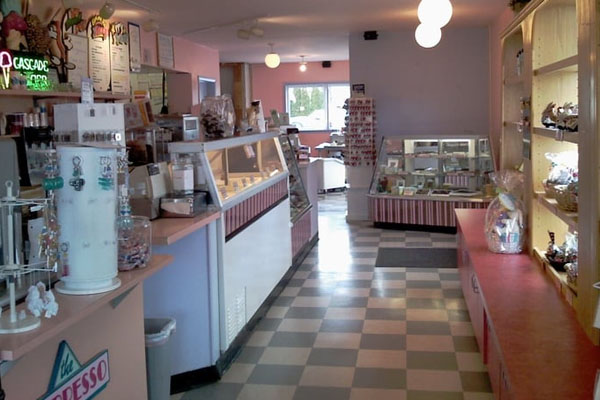 Restaurants
Commercial Street in Anacortes is a vibrant area with local restaurants that feature flavors from around the world. You can find casual dining such as fish & chips or a romantic candlelit dinner within walking distance from The Majestic Inn and Spa. Try Mad Hatter's Ice Cream or Bayside Sweets & Treats for dessert. Pictured above is the charming Anacortes Chocolate Factory.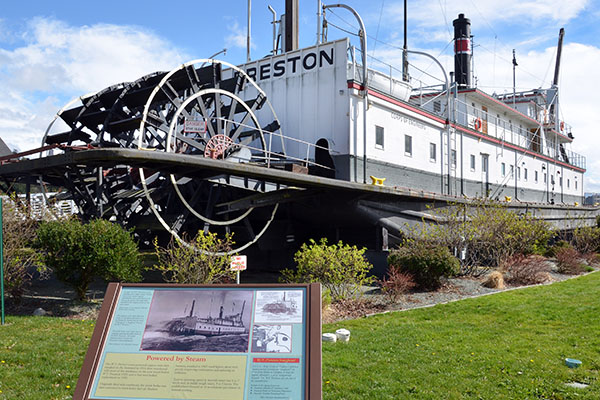 Museums and Galleries
Anacortes has a rich and well-documented history. The Anacortes Maritime Heritage Center is an exhibit of one of the original Alaska-bound fishing boats. WT Preston Museum invites you to step aboard a historic steamboat. The Museum of Northwest Art, The Children's Museum of Skagit County, Scott Milo Gallery and Acme Creative are just some of the other thriving arts centers that offer year-round programming in theater, music, visual and literary arts. Check out our galleries on the First Friday Art Walk every month!